Indonesia rejects appeals for mercy for Australian death row inmates
Comments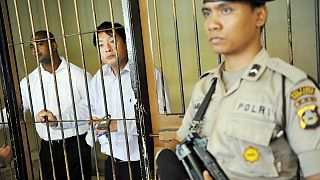 Two Australian men due to be executed in Indonesia have had their appeals for clemency rejected by a Jakarta judge.
Andrew Chan and Myuran Sukumaran along with seven others are on death row for trying to smuggle heroin from the resort island of Bali to Australia.
The president of Indonesia warned foreign countries not to intervene in Jakarta's right to use capital punishment. He said on Tuesday that the planned executions would would not be delayed.
"The first thing I need to say firmly is that there shouldn't be any intervention towards the death penalty because it is our sovreign right to exercise our law," President Joko Widodo told reporters.
That's despite repeated pleas from Australia, Brazil and France, who have citizens due to face a firing squad.
Lawyers for the two Australians said they have two weeks to file an appeal against the court decision.
"According to the judge, the president's rejection of (the) clemency petition is not an administrative act so this court does not have the jurisdiction to accept our case," said Todung Mulya Lubis.
"We plan to appeal today's court decision. We have two weeks to file an appeal. If the law is respected, an execution should be postponed until the legal process is over."