Ebola border closures end between Liberia, Sierra Leone, normal life returning
Comments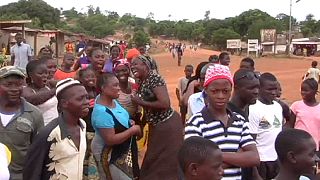 A six-month anti-Ebola clampdown has finally been lifted and the Liberian border with Sierra Leone re-opened. The inhabitants came out of quarantine. Some 9,000 people have died from Ebola in these two countries, the most seriously hit along with Guinea. The Liberian president has said he considers the epidemic is under control.
The closing of the border made many Liberians lose jobs, and made it hard to get food. Small business owners are relieved.
"We survive by doing business with people from the other side, and it's the same for them. We buy and sell. With the border closed they stopped coming and we stopped going; so business has been difficult."
Liberia has the heaviest death toll: nearly 4,000. There are nine known cases still in the country and 30 new suspected cases as of last week. This has made the authorities reluctant to lift special measures.
One week ago, schools re-opened. In the three countries, catch-up classes and cancelling some school holidays are being considered. Slowly, the country has been getting back to normal life. In Liberia, some of the roughly one million enrolled students have been following lessons by radio. Unicef handed out kits, and teachers were given special instruction on making pupils aware of hygiene.
Colonel Gmakoon Monger, Acting County Commander with Liberia's Bureau of Immigration and Naturalisation said: "Our economy has been seriously effected. Now that the borders are open again, I think it means the end of Ebola, although it is true that we are not yet 100 percent free."
Some schools had to send students home because teachers failed to turn up. One official said all schools would have to open by next week or face fines, although some converted into treatment centres will have to be decontaminated first.