Kharkiv bombing: Kiev says unrest could spread West
Comments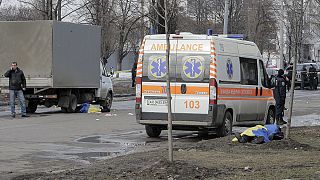 Ukraine says a bomb blast in Kharkiv, a city outside its eastern conflict zone, could mean the unrest by pro-Russian separatists is spreading.
At least two people were killed and around a dozen injured in Sunday's explosion during a peace rally.
Ukrainian President Petro Poroshenko described the blast as a terrorist attack:
"Our opponents, our enemies, have tried to destabilise the situation in the country. As you know there was an act of terrorism in Kharkiv, and our special security services were able to prevent an act of terrorism in Odessa."
Four people were arrested. Ukrainian officials claim the accused had planned a series of attacks in the city after receiving training in Russia.
Kiev is now trying to determine whether the separatists will now halt, or advance deeper into territory the Kremlin calls "New Russia".
Moscow has yet to respond to the latest accusations. But the Kremlin has repeatedly denied arming separatists.
Kharkiv has been targeted several times in recent weeks but this was the deadliest attack so far.
Eyewitness Philip Dykan described what he saw:
"The people were in a procession and those who died were at the front. They had just started to move forward and had moved around 10 metres when the blast happened. There was one explosion and it seems to me it detonated near the roadside, on the pavement. But it's difficult to say whether the explosive device was thrown or somebody left it and escaped."