'Everyone has a role to play' in countering radicalisation, says Cameron
Comments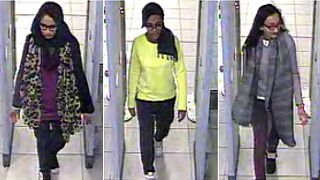 "Everyone has a role to play" in countering the radicalisation of young people, said British Prime Minister David Cameron as the search continues for three missing schoolgirls, believed to be heading for Syria.
Amira Abase, Kadiza Sultana and Shamima Begum left for Istanbul on February 17, believed to have been enticed online by extremists.
On February 15, a Twitter account in Shamima's name was used to contact 20-year-old Aqsa Mahmood. The Scottish national joined ISIL and married one of its militants and now actively encourages other girls to join her in Syria.
The UK is coordinating closely with Turkish officials. But on Monday (February 23), Turkey's deputy prime minister said Britain would be responsible if the girls are not found.
Questions have been raised about how the girls managed to leave for Istanbul – a well-worn route to Syria. Shamima is believed to have travelled on her older sister's passport, leading for MPs to call for tighter border controls.
Speaking from the House of Commons, Cameron said:
"Mr Speaker, we should be clear that this is not just an issue for our police and border controls. Everyone has a role to play in preventing our young people being radicalised, whether that is schools, colleges, universities, families, religious leaders and local communities."
The trio were friends with a fourth girl from their east-London school, who is now believed to be in Syria. Police questioned the girls following her December 2014 disappearance, but didn't have any cause for suspicion.
Mark Keary, the school's headteacher, said measures were in place to counter radicalisation.
"Students are unable to access Twitter or Facebook on Academy computers," he said. "With such measures in place, police have advised us that there is no evidence that radicalisation of the missing students took place at the Academy."
According to a recent study by the Institute of Strategic Dialogue think-tank, some 550 women from across Europe have gone to Iraq and Syria. The study finds many of them marry fighters and help to recruit others.
Counter-terrorism experts estimate around 50 women have left Britain for Syria, to join the Islamic State militant group.