African Union intensifies efforts to defeat Boko Haram
Comments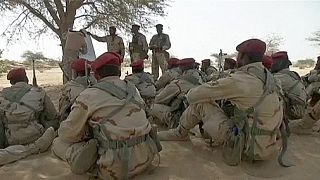 Elite forces from the US, Britain and other western countries have begun training African Union troops in Chad.
Chad, Niger, Nigeria, Cameroon and Benin have joined forces in a new coalition with the goal of wiping out Boko Haram.
The military exercises are being billed a warm-up for an offensive against the insurgent group, which has killed thousands in a six-year war in and around northern Nigeria.
RT @StateDept: President Obama at #CVESummit: We must remain unwavering in our fight against terrorist organizations. http://t.co/6CsEdX0iRu

— U.S. Mission Nigeria (@USEmbassyAbuja) February 19, 2015
Efforts are intensifying to capture the group's leader, Abubakar Shekau. The five-nation alliance claims it successfully beat back Boko Haram militants in the strategically-positioned border town of Baga, north east Nigeria, on Saturday (February 21).
Captain Mahmat Madaga was optimistic about the Union's mission.
"Boko Haram is a militia made up of civilians," he said. "They don't have the same experience we have. We are a well-organised army, they cannot withstand us."
Meanwhile, on a visit to Niger – one of the nations affected by the spillover of violence from the conflict – French Foreign Minister Laurent Fabius pledged support for the Union's bid to win the backing of the UN Security Council.