Greece readies reform list for lenders ahead of Monday deadline
Comments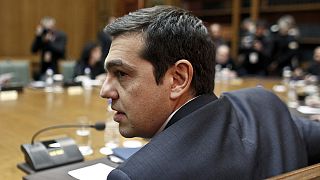 The pressure is on Greek Prime Minister Alexis Tsipras.
We are very confident that the list is going to be approved by the institutions
To be sure he has saved his country from bankruptcy, for the next four months at least, his leftist-led government has until Monday to submit a list of reforms acceptable to international creditors.
With the cabinet now briefed on Friday's loan lifeline in Brussels, the
message is that the list will be handed in early and should get the green light.
Greek Finance Minister Yanis Varoufakis said:
"It will be submitted in good time for them to have as much time as possible in order to assess it and we are pretty confident, actually we are very confident, that the list is going to be approved by the institutions and therefore we are embarking upon a new phase of stabilisation and growth."
Varoufakis did not use the word "troika" but news of further dealings with the European and IMF creditors monitoring Greece's compliance with austerity pledges is not to everyone's taste in the country.
"We went through two months of agony, emptied the banks, to realise we are still a debt colony," 54-year-old electrician Dimitris Kanakis told Reuters. "The paymasters call the shots."
But Tsipras and his Syriza party, elected last month on promises to end Greece's EU/IMF bailout programme, reject critics' claims of a climbdown.
The government insists the country is now shaping its own destiny rather than having reforms imposed from abroad.