Farah sets new indoor two mile world record
Comments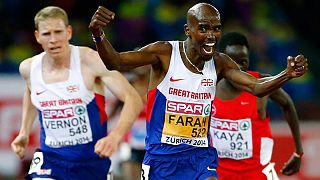 Great Britain's Mo Farah set his first World Record in the indoor two miles at the Birmingham Indoor Grand Prix Saturday.
The 31-year-old double Olympic champion clocked a time of 8:03.40, taking almost a second off the previous record held by Ethiopia's Kenenisa Bekele.
"It was amazing," Farah told BBC Sport. " I love representing my country, giving back to all the people."
The build up to the race had been marred by a Twitter row with fellow Great Britain teammate Andy Vernon who criticised the lack of high-level competition for Farah in Birmingham.
However Britain's greatest distance runner was clearly unfazed by the incident, running a sub-four minute first half of the race.
Farah stayed with Kenya's Paul Koech before taking the lead in front of the home crowd seven laps away from the finish.
"So many people have asked me when I was going to beat a world record. I really wanted to do it. Thank you everyone."