Clashes erupt at 'anti-police violence' rallies in Nantes and Toulouse
Comments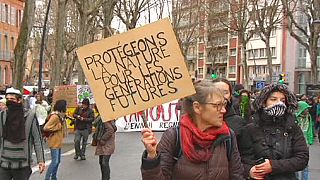 Hundreds of people took to the streets of Toulouse and Nantes to protest against police violence in France on Saturday.
It comes after the death of activist Remi Fraisse during a demo against a controversial dam project in Tarn last October.
The rallies also aimed to put pressure on the authorities over a the dam project and an airport development in Notre-Dame-Des-Landes.
Both demos were marred by violence as protesters threw stones at the police who responded with water cannon and tear gas.
Thirteen officers were injured and up to 25 people were arrested, according to the Interior Ministry.
The protest in Nantes was the biggest in nearly two years and comes after news that the airport project has been signed off.
Locals and environmental activist heavily oppose the development saying it will destroy nature reserves and farms.