Fears grow for 'Syria-bound' British schoolgirls
Comments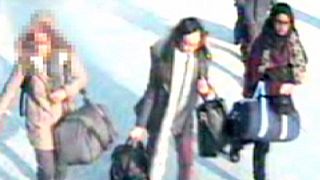 Fears are growing for three British schoolgirls who are believed to be making their way to Syria.
Kadiza Sultana, 16, Shamima Begum, 15, and their unnamed 15-year-old friend left their east-London homes without telling their families.
CCTV footage taken at London's Gatwick Airport on Tuesday (February 17) shows the trio going through security, before they boarded a flight to Istanbul.
Urgent appeal
UK police have launched an urgent appeal to trace them and are said to be working closely with the Turkish authorities.
A gateway to Syria, Istanbul is one of several areas currently experiencing severe weather conditions, which are affecting travel links. British authorities say this could mean there is a chance the girls are still in the country.
Social media concerns
Richard Walton, Head of the Metropolitan Police's Counter Terror Command expressed concern for the girls' safety.
"We don't know what's caused this. We don't know whether it's contact through social media or whether it's contact through face-to-face locally. We don't know at this stage," he said.
A powerful campaign by British Muslims to condemn the actions of the Islamic State jihadist movement has gained international momentum. 'Not in my name', led by the Active Change Foundation, is attempting to counter the presence of extremism on social media.
Security forces estimate around 600 British Muslims have travelled to Syria to participate in the conflict. Some of those are believed to be members of the Islamic State militant group.
Some 50 percent have since returned, with scores being arrested under anti-terrorism laws.
'Surprised' and 'devastated'
Walton added: "The way that women and young girls are treated by the terrorist group calling itself 'Islamic State' is appalling. These girls are not safe in Syria. So, if they're still in Istanbul and there's a chance, a possibility, that we can bring them back, then we can safeguard these children."
The girls' disappearance had 'surprised' and 'devastated' their families, the Police head said.
They attend Bethnal Green Academy – the same school as another girl who travelled to Syria in December. The girls are believed to have known each other.
It is thought more than 50 British women have made the journey to Syria via Turkey, with the aim of joining ISIL. Reports suggest many Westerners who join the group later become so-called 'jihadi brides.'
Just a holiday?
However, Abdul Samid, a parent governor at the academy, told the British media he believed the three were going on holiday:
"I still don't believe that they are going anywhere other than a holiday – because this is how they were dressed and this is how they looked and this is how they packed," he added.
He emphasised that there was "absolutely not" any radicalisation at the school, saying:
"I'm 100 percent confident – with the head and the senior leadership team and the whole school – that we've done everything to put in measures that safeguard all the children that attend the school," he said.