Angela Merkel granted second audience with Pope Francis
Comments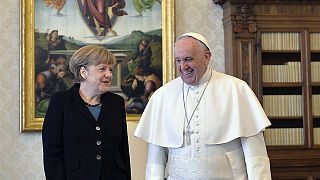 German Chancellor Angela Merkel shifted her focus to the global agenda during a private, 40-minute meeting with Pope Francis on Saturday (February 21).
According to a Vatican statement, the pontiff and the German leader engaged in 'cordial discussions' covering a range of topics of an international nature, in particular the struggle against hunger and poverty.
Child vaccination and global warming were also said to have been considered – topics expected to be discussed in June 2015, when Merkel hosts the G7 Summit in Bavaria.
Gifts were exchanged, the pope received a Bach CD and a donation for refugee children. In return, Merkel was given a medal of his pontificate, carrying the image of St Martin, who removed his cloak to give it to the poor – a reminder, he said, of the duty of world leaders to protect the impoverished.
To this, Merkel reportedly replied: "We will do our best."
It was the second audience granted to the Chancellor since Francis took office less than two years ago.