USA: The Big Freeze tightens its grip
Comments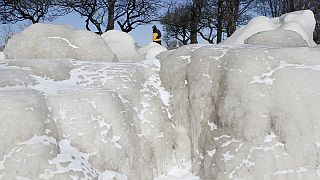 Parts of Niagara Falls have frozen over as large areas of the United States shiver in record-breaking low temperatures for this time of year.
As Chicago recorded -22 Celsius, state schools, serving 396,000 students, cancelled classes on Thursday and many commuters were wrapped up so heavily that only their eyes could be seen.
Battling a blaze at a building in Philadelphia, fire crews struggled as water from their hoses turned to ice.
The bitter cold was headed east, meaning a frosty Friday morning commute was in store for East Coast residents from Boston down to Richmond, Virginia, according to National Weather Service meteorologist Bob Oravec. More records are expected to fall.