Russia: Prominent anti-Kremlin activist Alexei Navalny jailed
Comments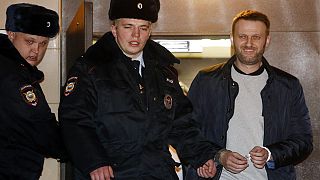 Prominent Russian opposition leader Alexei Navalny has been sentenced to 15 days in prison for breaching a law that restricts demonstrations.
The activist was jailed for handing out flyers to a rally due to take place on March 1, 2015, which he'll now no longer be able to attend.
As he was led away, Navalny thanked the public for their support and urged his followers to attend the unauthorised anti-Kremlin protest, labelled the 'Spring March'.
"Thank you very much, for your honour, for explaining to everyone again why they should come to the Spring March," he said.
Two days earlier, another court upheld a three-and-a-half year suspended prison term for Navalny, who along with his brother Oleg, is accused of stealing some 430,000 euros from two firms.