Many Greeks still going hungry and can't pay for electricity
Comments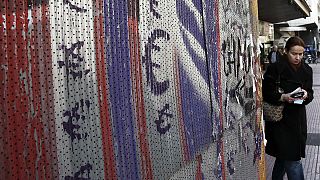 For two years, Giorgos and Evgenia Kouzilos and their three children have been living without electricity. Athens says 300,000 households in Greece can't afford the bill.
In an interview by oil lamp, Mr. Kouzilos said: "It's really tough for my wife and children. We try to finish activities such as helping the kids with their homework while there's still daylight."
Michalis Tsaoussoglou's family is among the one in five who went hungry last year.He says he drove trucks for 35 years and paid his taxes but has been unemployed for five years now, and so he goes to a food bank in the outskirts of Athens. He owes six months rent and a year of electricity, but he hasn't brought in a single euro in that time.
Mr. Tsaoussoglou said: "As it is, I feel useless, as if I'm dirty, like I don't exist."
The Prolepsis Institute of Preventive Medicine and Occupational Health says 54 percent of Greeks are not adequately fed.
After six years of recession, now two million Greeks (out of a total population 10.5 million) have no access to the public health system, because it is linked to employment. They have either lost it or, like young people, have never had it.
The official jobless rate measured in November was nearly 26 percent on average, but more than 50 percent for under 25-year-olds. Last quarter growth in 2014 saw a slight upturn, at 1.7 percent, but jobs continue to disappear, like at the Chalkida Evia cement plant, in January.
Plant worker Stelios Fotias said: "The company told us there'll be massive layoffs, around 226 employees — not 50, 60, 70 or 80 people… It's just a matter of time: everybody will be gone… we're all finished."
Since 2011, when austerity began to tighten its grip, according to social statistical data, there has been more than a 35 percent increase in the rate of suicide.