Dozens dead in Mogadishu hotel attack
Comments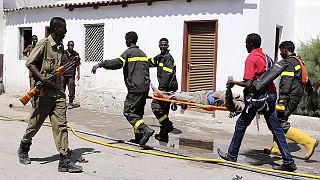 Security forces have cordoned off the Central Hotel in the Somali capital Mogadishu shortly after a suicide attack by Islamist militants.
Police say at least 11 people were killed, including one MP when a car laden with explosives was rammed into the hotel gates and a suicide bomber entered the building and detonated his device around lunchtime, a typically busy time for hotels.
Ambulances raced to the Central Hotel were ministers and legislators had gathered. The Deputy Prime Minister and Marine Transport Minister were among several injured in the attack and were rushed to hospital. A presidential source speaking anonymously said the death toll is likely to rise, saying at least 25 people had been killed.
One eyewitness recounts his shock saying, "I was in the mosque when the first blast went off. I escaped through the rear exit of the hotel but on my way out I saw a lot of people lying dead on the ground. I could not believe it."
The militant group Al-Shabaab claimed responsibility saying they had targeted officials as part of their operation in Mogadishu. The Islamist militants aims to bring down the government and impose a strict form of sharia law in the country.
A president spokesperson condemned what he called a 'terrorist attack'.