Snow storm hits Istanbul closing Bosphorus to shipping
Comments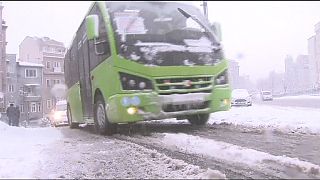 A snow storm has hit Istanbul grounding planes halting traffic and forcing the temporary closure of the Bosphorus Strait shipping channel.
Turkish airlines, Europe's fourth largest carrier has been forced to cancel more than 300 flights.
Some commuters had to walk work after as much as 60 cm of snow fell in two days.
The storm also stranded members of the Besiktas football club for hours. The Istanbul side is scheduled to play Liverpool on Thursday in England.
The club said the players had finally departed from an alternative city airport.