France PM Valls survives no-confidence vote, vows to pursue economic reforms
Comments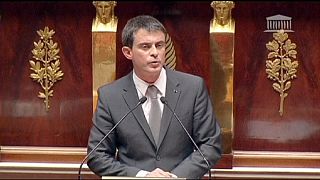 The French government has survived a no-confidence motion in the lower house of parliament, triggered by its use of decree to bypass opposition to an economic reform bill.
Some 234 lawmakers voted in favour of the motion – ie. against the government, far short of the 289 votes needed for an absolute majority.
The controversial bill will go straight to a reading in the Senate (upper house of parliament).
A defiant Prime Minister Manuel Valls told parliament after the vote: "We will carry on with all the means given to us by the constitution. We will continue our reforms without giving up."
Former President, and head of the opposition UMP party, Nicolas Sarkozy says using the so-called '49-3' decree is a desperate measure.
If President Francois Hollande uses the "nuclear weapon of the 49-3 for the tiny 'Macron law' how is he going to pass the big reforms he's announced?" Sarkozy said in an interview with French media.
"I'm not alone. All observers agree on this point. The 49-3 is proof of the weakness of this president," Sarkozy added.