Kurdish militant call for concrete steps from Turkey over peace process
Comments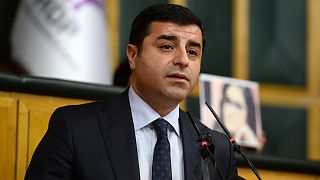 Turkey's fragile peace process with Kurdish militants risks falling apart if no progress is made, according to the Kurdistan Workers Party (PKK).
There's been growing speculation that jailed militant leader Abdullah Ocalan will call an end to the conflict which has killed 40,000 people over three decades.
But his PKK group has accused the government of stalling. A claim denied by Turkey's prime minister. Speaking in Pakistan last night Ahmet Davutoglu said: "a peace process requires veracity, a peace process requires courage but most importantly it requires good will. Concrete steps need to be taken."
That has been widely interpreted as an invitation to the PKK to renounce its armed struggle.
Failure to strike a deal could cause problems for President Recep Tayyip Erdogan who needs to secure large majority in June's general election to push through plans for an executive presidency.
"They're clearly not on the same page during the negotiations," said Selahattin Demirtas, leader of the Kurdish People's Democracy party.
Kurds have been pushing for Ocalan's release, an amnesty for fighters and steps towards autonomy.
Those involved in the talks remain tight-lipped on details but one Kurdish leader said the government was more interested in new security legislation which would boost police powers.