Hundreds of Boko Haram militants killed around northeastern Nigeria
Comments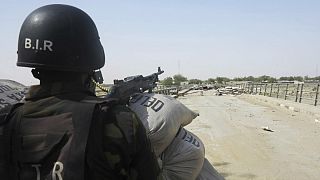 More than 300 Boko Haram islamic militants have been killed in operations in and around northeastern Nigeria according to army sources.
As part of a regional four-nation military coalition troops from neighbouring Cameroon helped to retake 11 villages, including the strategically important area around Fotokol, which Major Belthus Kwene said is a sensitive point:
"It links two big regions – West and Central Africa. This village is a transit point that everyone needs to go through, for either personal or business reasons. So Fotokol is of huge significance."
The military coalition against Boko Haram is made up of Nigeria, Cameroon, Niger and Chad.
The militant group has killed thousands of civilians and soldiers since it started its campaign for for a breakaway Islamic state in 2009.
The United States embassy in Camaroon says it will help equip the country's army to combat the group.