Ukraine truce close to collapse as clashes continue near Debaltseve
Comments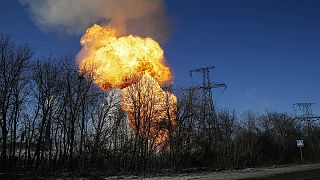 Pro-Russian rebels bombarded government troops they they say are encircled in eastern Ukraine on Tuesday and a plan for both sides to pull back their heavy guns stalled, pushing a fragile peace deal closer to collapse.
A Reuters witness near the front line said artillery rounds rocked the town of Debaltseve every five seconds and black smoke rose skywards, despite a truce that has eased fighting in many areas since the European-brokered deal took effect on Sunday.
The rebels said they had captured parts of Debaltseve, which sits on a strategic railway junction, and that some Ukrainian soldiers had surrendered, but Kyiv denied this.
"At the moment there is fierce fighting on the outskirts of the town. There are clashes around the station. But our forces are holding their positions and they are completely within their rights to open fire in response," Ukrainian military spokesman Andriy Lysenko said.
Kyiv said it will not pull back its big guns until the truce holds.
Hopes that the deal reached last Thursday would end a conflict that has killed more than 5,000 people were always low after a rebel advance in January scuppered an earlier truce.