Russian court upholds fraud conviction for Kremlin critic Navalny
Comments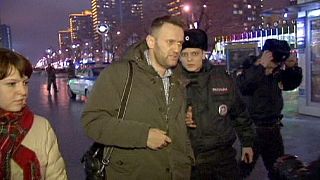 A Russian court has upheld a suspended three-and-a-half-year jail term for Kremlin critic Alexei Navalny over a theft case he claims is politically motivated.
The opposition protest leader and his brother, Oleg, were convicted in December of defrauding nearly half a million euros from two firms by overcharging for mail and parcel services. Oleg is serving his time in jail.
He is alleged to have used his position as a senior manager in Russia's Post Office to attract customers for a mail company of which he was registered as the founder.
Russian prosecutors demanded a 10-year prison sentence for Navalny, who led street protests against Vladimir Putin in 2011-12.