Greece : PM looks set to ask for a six month loan and vote on a new president
Comments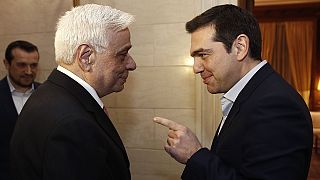 Greece intends to ask for a six month extension of its loan agreement with the eurozone today but ministers stressed it would not be the same as the current bailout agreement.
Greece has already rejected that plan but its funding runs out on February 28 and without another in place is likely to run out of money.
Officials have suggested the request will be similar to proposal put forward by European Economic Affairs Commissioner, Pierre Moscovici. Greece said at Monday's Eurogroup meeting it had been willing to accept this but the document was withdrawn.
Eurozone finance ministers have given Athens a Friday ultimatum to accept an extension to its bailout programme or face the consequences.
Garnering support where he can Prime Minister Alexis Tsipras has surprised many by nominating a former New Democracy minister Prokopis Pavlopoulos for president.
Although a conservative Tsipras sees him as a unity candidate who has in the past criticised the bailout deal backed by the previous government.
Despite the role of president being largely ceremonial, failure to find an acceptable candidate sparked January's election which brought Syriza into power.
Parliament is due to hold a vote on the nomination Wednesday evening.
Reporting for euronews in Athens Stamatis Giannisis said:
All signs point to the fact that this is going to be an one – off presidential election, as the combined parliamentary majority of the ruling coalition and the support of the conservative main opposition will provide more than the 180 votes needed for Mr. Pavlpoulos' election to the Greek presidency."