French economic reform bill opposed by rebel Socialist lawmakers
Comments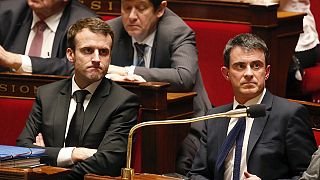 French Prime Minister Manuel Valls defied critics from left and right on Tuesday by declaring he would ram a flagship economic reform bill through parliament by decree, bypassing backbench rebels but exposing his government to a no-confidence vote.
The package, which includes rules to broaden trading hours and deregulate some sectors, is aimed at spurring growth and persuading the European Commission to give Paris more time to get its public finances into line with EU rules.
Although the liberalising reforms are mild by the standards of many European countries, they sparked a revolt by dozens of back-bench lawmakers in the ruling Socialist party, putting the government's majority in doubt.
It is the first time since 2006 that any government has used a constitutional mechanism to push through a bill without a vote, triggering complaints that the reformist Valls was being authoritarian and short-circuiting parliament.
""There is a possibility of a majority vote in favour of this bill, but it is not certain. It is then my responsibility, I will take no risks. I won't be responsible for this bill being rejected. I consider it is crucial for our economy," he told lawmakers minutes before the vote had been due.
"Nothing will make us give up, nothing will make us retreat – the national interest of the French people requires it."
The main opposition party, ex-president Nicolas Sarkozy's conservative UMP, immediately proposed a no-confidence motion, which will be debated with a vote in the next 48 hours, most likely on Thursday. If the motion fails, the decree is deemed to have been adopted.
"The government should win this confidence vote, since an absolute majority of lawmakers have to vote against the government for it to be toppled," BNP economist Dominique Barbet said. The Socialists and their allies combined have an absolute majority in the 566-seat lower house.