Freight train carrying crude oil derails in West Virginia
Comments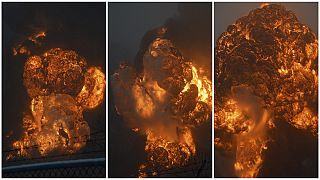 A massive fire caused by the derailment of a freight train carrying crude oil has forced two nearby towns in West Virginia to be evacuated.
At least 14 of the train's wagons were set ablaze – one of them plunged into a the Kanawha River – and a nearby house was destroyed as flames shot into the sky above the frozen landscape.
Several people had to be treated for smoke inhalation but there have been no reports of any deaths.
Heavy snow was hindering efforts to handle the incident.
The train consisted of two locomotives and 109 wagons and had been travelling from North Dakota to Yorktown Virginia.
It's the second derailment in the area … last April another train owned by the CSX Corporation also exploded.