Debaltseve violence thwarts Ukraine ceasefire
Comments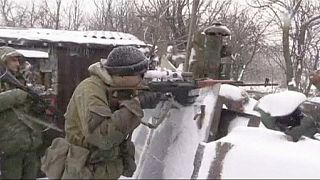 Heavy fighting continued throughout Monday in Debaltseve, which is sandwiched between the rebel strongholds of Donetsk and Luhansk.
Pro-Russian rebels say they have Ukrainian troops encircled there and that the town now belongs to them.
Monitors from the Organisation for Security and Cooperation in Europe (OSCE) have not been able to reach Debaltseve.
OSCE Ukrainian Special Monitoring Mission Deputy Chief, Alexander Hug, warned that the ceasefire was "not holding fully or comprehensively" in Donetsk, Luhansk or Debaltseve.
The ceasefire agreed last Thursday (February 12) included a plan for the withdrawal of heavy artillery from the frontline to begin at midnight on Tuesday (February 17).