Ukrainian civilians near front lines don't think truce will work
Comments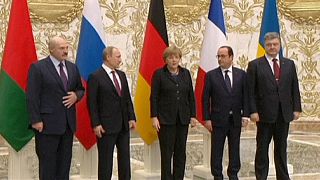 After 16 hours of negotiating, Putin, Poroshenko, Merkel and Hollande agreed on a truce for Ukraine, to start from 15th February. Given the region's track record, however, scepticism was high. Swiss RTS television was in Minsk.
The Ukrainian 30th motorised infantry were also sceptical, stationed in Debaltseve, a major rail hub. Kyiv has kept control but the separatists want it badly. France 2 was in the danger zone on Wednesday.
In Kyiv's Independence Square, where the anti-Yanukovich protests took place a year ago, there is a glimmer of hope for the Minsk accord — not as you get closer to the front. Italian RAI 3 sent this report on Wednesday.