Ukraine forces and pro-Russian rebels trade ceasefire violation claims
Comments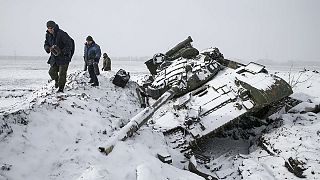 Ukraine government forces remain dug-in, encircled by pro-Russian rebels, leaving a European brokered peace plan on the verge of collapse.
Fighting subsided in many parts of eastern Ukraine after a ceasefire came into effect yesterday but there are still reports of intense shelling in the worst hit areas, and both sides accuses the other of violating the deal.
"Ukrainian authorities don't want a ceasefire. They're trying to destabilise the situation on the contact line by various means," said Eduard Basurin, deputy Defence Minister of the self-proclaimed Donetsk People's Republic.
The United States says the rebel operation around the strategic town of Debaltseve is ongoing with Russian armed forces in support.
Ukraine's National Security spokesman Andriy Lysenko said: "Illegal armed groups have carried out at least 129 attacks on anti-terrorist operations in order to oust them from the occupied territories. Our soldiers, I stress, only opened fire in response."
Kyiv also claims that five of its soldiers have been killed and 25 others hurt since the ceasefire took effect.