Soviet era 'Frank Sinatra' targeted in expanded EU sanctions over Ukraine
Comments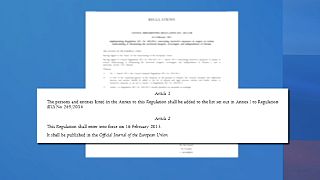 Despite the attempts to reach a ceasefire in Ukraine the EU has added another 19 individuals and nine organisations to its sanctions list.
The additions bring the totals to 151 people and 37 companies.
Two Russian deputy defence ministers have been included, but arguably the most prominent new target is the famous singer Iosif Kobzon, often called the Russian Frank Sinatra. He has previously visited the eastern city of Donetsk where he made statements supporting separatist rebels.
Armed Ukrainian separatist groups such as the Cossack National Guard and the Sparta Battalion have also been included.
Reacting to the news a Kremlin spokesman said the attitude in Moscow remains the same – that sanctions are illegal and prevent the solution of problems.