Libya: Tripoli-based parliament condemns Egypt strikes as 'assault on sovereignty'
Comments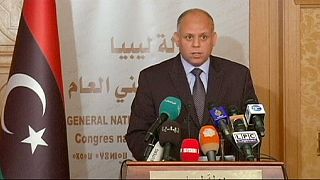 Libya's Tripoli-based parliament has condemned Egypt for carrying out an air strikes in the eastern city of Derna.
The raid came a day after the militant group calling itself Islamic State (ISIL) released a video showing the beheading of 21 Egyptian Christians.
Cairo says the dawn strikes hit camps and weapons storage areas being used by ISIL militants.
Civil conflict has plunged Libya into near chaos and created havens for militia.
Two rival governments and parliaments, allied to separate armed factions, fight for territory.
Libya's air force took part in the strikes alongside Egypt.
But the parliament in Tripoli condemned Egypt's actions.
Awad Abdel Sadek, Deputy Chairman of Libya's National Congress, called them an "assault on Libyan sovereignty."
"We remind the Egyptian authorities of their responsibility to protect Libyan citizens on their land from any reactions resulting from these events," Awad Abdel Sadek continued.
In the Egyptian village of El-Oar, hundreds of mourners gathered at a funeral service for several of the 13 Coptic Christians killed by ISIL militants.
Om Beshoy, the mother of one of the dead men, said Egyptian President Abdel Fattah al-Sisi must "avenge" the deaths.