Ukraine ceasefire mostly observed but sporadic fighting persists
Comments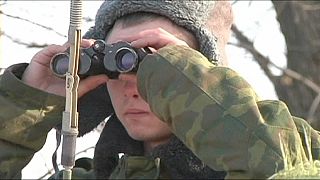 The ceasefire in eastern Ukraine is mostly being observed, but there are reports of mortar fire and sporadic fighting around Luhansk and Debaltseve.
The governments of France and Germany, instrumental in shaping the truce, say the local incidents need to be resolved quickly.
The OSCE is charged with monitoring events on the ground and reiterated its call for the parties to adhere to the Minsk deal.
Ertugal Apakan is the head of the OSCE mission to Ukraine:"The mission calls on all parties to adhere to the ceasefire in all locations. And to guarantee access to enable it to fulfill its monitoring role in line with the mandate given by the 57 participating states of the OSCE."
In the town of Svitlodarsk shells hit some buildings to put an end to any optimism.
A man whose home was destroyed summed up the general mood: "No, there is no hope. No hope at all. You have seen how many times they have tried recently. The first time, no ceasefire , the second time no ceasefire, and so on."
A convoy of Russian aid arrived in Luhansk across the border controlled by separatist forces.
A route that Kyiv says is used to bring in weapons from Russia.
Russia denies any involvement in the conflict.