New Croatia President Grabar-Kitarovic urges national unity to revive economy
Comments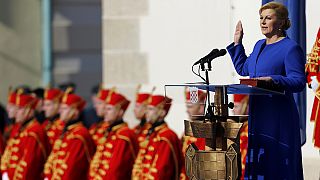 Croatia's first woman president was sworn into office on Sunday, calling for national unity to help revive the country's battered economy.
Conservative Kolinda Grabar-Kitarovic, 46, was addressing a gathering in Zagreb that was packed with flag-waving citizens and foreign visitors including Serbia's Prime Minister Aleksandar Vucic.
Grabar-Kitarovic won January's presidential election as a candidate for the opposition HDZ party, pledging to prod the Social Democrat-led government into doing more for the economy, which has been in recession since 2009.