Forensic teams probe background of man suspected of Copenhagen shootings
Comments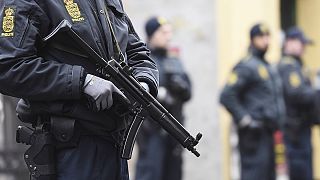 Police are carrying out a wide ranging investigation into the man suspected of carrying out two fatal gun attacks in Copenhagen.
He was shot dead by armed officers after he opened fire on them in the Norrebro neighbourhood of the city.
Following the first attack on the cultural centre, that left one person dead and three police officers wounded, authorities issued a photograph of the suspect.
They believe the same man was then responsible for the murder at the synagogue that took place a few hours later.
Jens Madsen, from the police intelligence unit divulged the following information:" We are now aware of the Identity of the person, but due to the ongoing investigation we are not in a position to be able to reveal the identity of the person. We do not have any specific, concrete knowledge of him having travelled to conflict zones like Syria, Iraq or other zones."
Forensic teams are engaged in a thorough search of the man's apartment as detectives try to piece together a fuller picture of the occupant.
As a mark of solidarity French Interior Minister Bernard Cazeneuve arrived in Copenhagen to meet with his counterpart: "We came here to express our sadness, our solidarity, our friendship. We came here to hold hands with our Danish friends and to let them know we are with them, in the same way they supported us when we had to go through a similar tragedy," said a moved Cazeneuve.
In the French killings, two gunmen opened fire at the Charlie Hebdo office in Paris killing 12 people.
The following day a suspected accomplice of the attackers shot dead a policewoman and later killed four people in a Jewish supermarket.