Ukraine: Fighting intensifies ahead of Sunday's ceasefire
Comments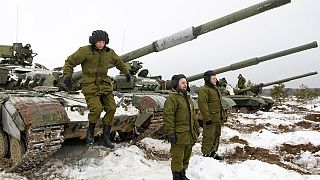 Video footage from Artemivsk in Ukraine's Donetsk region on Friday showed local residents heading to a local bomb shelter as fierce fighting continued ahead of a weekend ceasefire deadline.
Reports said Russian-backed separatists had mounted a major offensive around the city and in nearby Debaltseve.
The Ukrainian military said 11 soldiers have been killed and 40 wounded since the latest peace deal was reached between Russia and Ukraine on Thursday in Minsk.
Kiev claims rebels have built up their forces across separatist-held zones in anticipation of Sunday's ceasefire.
Ukrainian officials and observers remain sceptical that any peace will hold for long.
Further shelling rocked the suburbs of rebel-held Donetsk on Friday. Reports suggest four people were killed there, three of them children.
Thousands of people have fled their homes in recent days. Since the conflict broke out a year ago, more than 5,000 people have been killed.