Ukraine: President Petro Poroshenko questions if ceasefire will take effect
Comments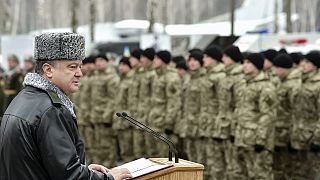 Ukraine President Petro Poroshenko believes there are no guarantees the ceasefire deal agreed in the Belarus capital on Thursday will actually take effect.
"I don't want anyone to have any illusions and I don't want to look like a naive person. We still have a long way to go before we reach peace. And there is no firm conviction that the agreement signed in Minsk will be fully implemented," he said while at a National Guard training base.
It is a view opposed by Moscow as the ceasefire has been endorsed by the main leaders. Spokesman Dmitry Peskov told reporters, "This time the agreement was supported at the highest level and we hope that all parties will honour their commitments."
And the talking is not over. It's understood the four leaders will speak by phone on Saturday evening.