More than 100 stranded whales die in New Zealand
Comments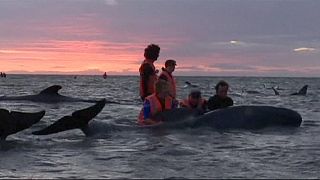 Despite desperate efforts by rescuers and volunteers, more than 100
stranded pilot whales have died on a beach in New Zealand.
There are now serious fears for a further 100 or so still stuck at Farewell Spit on South Island.
Some of the stricken creatures have been refloated only to run aground again.
Farewell Spit has been the scene of many beachings in the past but this is said to be the biggest such incident there in more than a decade.
Mass beachings are fairly common worldwide. Experts blame reasons ranging from sickness to disorientation due to manmade elements like sonars.