Ukraine: Leaders to talk by telephone says Moscow
Comments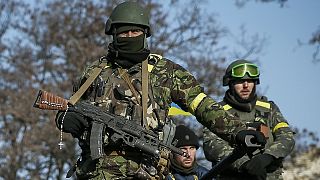 The countdown has started to the ceasefire in Ukraine. Media sources report shelling on Friday morning but not apparently as intense as in previous days. The rebels claim three civilians died in Luhansk.
A military spokesman in Kyiv said eight members of Ukraine's military had been killed in the past 24 hours in fighting against separatists.
There will be more talking by the four leader of Russia, Ukraine, Germany and France. A spokesman for the Kremlin said he believed a phone conversation would be confirmed in the coming days.
Dmitry Peskov stressed too Moscow expected all points of the ceasefire deal to be implemented.
The agreement reached in Minsk has also raised the issue of EU sanctions. Russian Economy Minister Alexei Ulyukayev said he hoped the penalties would be lifted.
"I am deeply convinced that there are opportunities to remove these problems," he was quoted as telling reporters, adding he believed all sides were tired of the regime of sanctions.