OSCE raises concerns over continuing fighting in Ukraine
Comments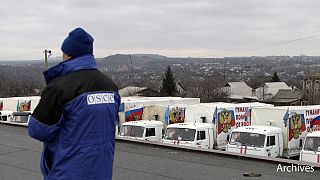 The security watchdog in Ukraine has expressed its concerns over the continuing fighting.
Nonetheless, the head of the Organisation for Security and Cooperation in Europe is optimistic both sides will respect the ceasefire deadline on Sunday.
OSCE Secretary General Lamberto Zannier told reporters in Kyiv: "We really expect these hostilities to terminate by the deadline that was set in Minsk."
As the battle also rages for control of the strategic town of Debaltseve, Zannier told euronews his focus is on prisoner releases and heavy weapon removal.
"We shouldn't assign Debaltseve to one side or another. We should really make sure, that the fighting stops, they will go beyond the heavy weapons – we need to work now on the heavy weapons, on releasing of the prisoners. These will be concrete moves towards de-escalation."
The OSCE says it is also preparing to send a team of monitors to the Russian-Ukraine border even though such a move is not required by the Minsk agreement.