Clashes in east of Ukraine as ceasefire deadline nears
Comments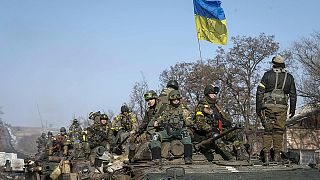 Mobilised and caught in the conflict in what is supposed to be the countdown to the guns falling silent in the east of Ukraine.
Government forces in the area of the strategic town of Debaltseve have been involved in some of the most intense clashes in a last-ditch effort to win the town.
Military sources say 11 soldiers have died and more than 40 more wounded in the past 24 hours.
"There is fighting for the village of Logvinovo, the village that separatists are trying to hold. The road that leads to Debaltseve is under fire," explained one Ukrainian soldier.
Rebels say 7 civilians were killed in those clashes while Luhansk also came under bombardment where two more were killed.
Shells fired by separatists rained down on a cafe in Shchastya in which the two died according to the head of the Kyiv controlled regional administration.
Russian media outlets reported it was the heaviest fighting in the area for months, raising doubts about the peace deal brokered in Minsk on Thursday.
"Comrade, President of Ukraine, where is your ceasefire? Have you decided to raze the whole of the Donbass region to the ground before February 15th, as the ceasefire will start only on February 15?," said one Luhansk resident.
"Quite serious live fire in areas like Luhansk and Debaltseve" is how the situation was summed up by the spokesman for the OSCE monitoring group. He also said monitors had witnessed "significant movements" of unmarked military vehicles and convoys.