70 years on Germany remembers Allied firebombing of Dresden
Comments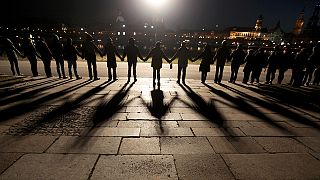 A special service has been held in the eastern German city of Dresden to mark the 70th anniversary of the Allied bombardment.
Candles for peace were lit from other cities across Europe which suffered massive air attack. They included Coventry, Breslau, Ostrava and St. Petersburg.
Many survivors of the bombing also attended.
Germany's President Joachim Gauck said: "A remembrance, which solely considers the guilt of the other, will led to antagonism between nations instead of bringing them closer in peaceful dialogue. The manipulation and instrumentalism of remembrance is something we're experiencing in present times in a worrying dimension."
Bells rang out at the Baroque domed Church of Our Lady as some 10,000 people joined hands along the Elbe river and across bridges – a powerful tribute to tens of thousands burned alive.
British and US bombers killed up to 25,000 people when they raided Dresden over three days in 1945.
They dropped nearly 4,000 tonnes of explosives and incendiary bombs, unleashing an inferno that melted people and reduced vast areas of the so-called "Jewel of the Elbe" to ash and rubble.