Yemen: US embassy vehicles seized by Houthi followers
Comments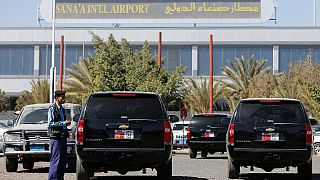 A security official in Yemen says more than 20 US embassy vehicles were seized after the ambassador and diplomats left the capital Sana'a.
The diplomatic staff left their cars at the airport before flying out of the country amid growing security fears.
Senior security official Mohamed Eisa said the move to seize the cars was unplanned, but his team was following the orders of the Houthi militia, which formally took power in the country a week earlier.
Eisa added that the cars would be returned, but through official channels, such as the United Nations and the foreign ministry.
The US joins Britain and France in closing its embassy in Yemen and evacuating staff members.
Sana'a and its airport are currently controlled by the staunchly anti-American Houthi militants, who overran the capital in September 2014, before formally taking over the running of Yemen in February 2015.