Ukraine civilians near fighting front face deadly collateral risk
Comments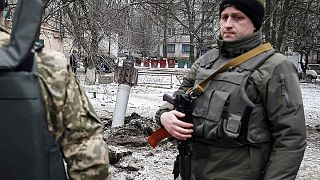 Civilians near the front lines of the fighting in eastern Ukraine don't know where else to go, in the aftermath of deadly rocket attacks.
Civilians and soldiers were also wounded in the strikes on the Ukrainian military campaign headquarters in Kramatorsk.
A nearby residential area was also hit.
Ukrainian media today confirmed a figure of 15 dead, including five children.
A woman who had already fled her home, with her child, said: "Of course we have nowhere to go. We are going further away. We came here from Donetsk, hoping it would be better, but it's not. We're going where the road takes us."
Kramatorsk is roughly 50km north of the front line, where, clearly, fighting continued while peace talks were being held elsewhere.
On Tuesday, Russian news agency RIA quoted a representative at rebel headquarters in Donetsk as saying: "There were no strikes by us from any kind of weapon in the direction of Kramatorsk."