Toxic orange cloud forces locals indoors after chemical explosion in Spain
Comments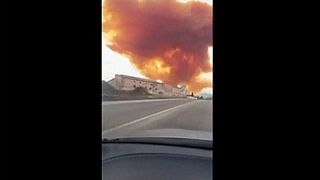 Three people were injured in an explosion at a chemical plant in northern Spain on Thursday. Authorities advised residents of several small towns near Barcelona to stay indoors as a large toxic cloud spread over the area.
The regional government of Catalonia said in a statement that the blast appeared to have been caused by two chemicals coming into contact during delivery to the plant, owned by Spanish company Simar.
Simar could not immediately be reached for comment.
A thick orange cloud could be seen emanating from the site in Igualada, some 60 km from Barcelona, according to pictures and television footage of the incident. It is then thought to have spread over residential areas nearby.
Catalan authorities told people to shut their windows and stay inside as a precaution, and cut off some roads in the area as well as a train line.
By noon, the confinement order was partially lifted, although emergency services were still advising children and elderly people, as well as pregnant woman, to stay indoors in six affected towns.
Nitric acid – one of the two chemicals involved – is corrosive and toxic, authorities said.