Rebels push on with their assault on Ukrainian government positions ahead of peace talks
Comments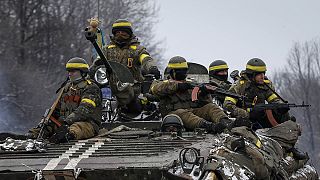 More than 10 civilians and soldiers have been killed in rocket fire deep inside Ukrainian government-held territory on the eve of peace talks.
The eastern headquarters of Ukraine's military in Kramatorsk was hit as well as residential areas.
Statement by Chief Monitor on #Kramatorsk "Once again innocent civilians are bearing the brunt of a violent conflict" http://t.co/Eh6Rv50mDR

— СММ ОБСЄ в Україні (@OSCE_SMM) February 10, 2015
"We are safe nowhere." Multiple civilians killed in Ukraine shelling. ChristopherJM</a> reports <a href="http://t.co/IyeNuTEpH2">http://t.co/IyeNuTEpH2</a> <a href="http://t.co/D4vERoaIoJ">pic.twitter.com/D4vERoaIoJ</a></p>&mdash; Mashable (mashable) February 10, 2015
The rebels are keeping up their assault on army held areas including the rail junction at Debaltseve. The town itself according to rebels is now surrounded. Their aim is to capture as must ground as possible before the expected talks in Minsk.
Government troops have been pushed back in recent days abandoning weapons and supplies which the rebels have claimed.
Meanwhile Kyiv announced its forces have launched a counter offensive to the southeast away from the front line, to relieve separatist pressure on the port of Mariupol, the biggest city in the rebellious provinces still in government hands.