Obama predicts ISIL will lose as he formally asks Congress to use military force against them
Comments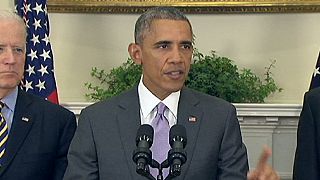 The United States may have been carrying out airstrikes against Islamic militants since last year but the president has now formally asked Congress to authorise military force against them.
In a statement Barack Obama said ISIL will be defeated but reassured the American public that the US will not be dragged into another prolonged conflict:
"The resolution we submitted today does not call for the deployment of US ground combat forces to Iraq or Syria. It is not the authorization of another ground war like Afghanistan or Iraq," he said.
It is the first time a US president has sought Congressional approval to use military force since President George W Bush in 2002, ahead of the invasion of Iraq.
The plan could however include limited ground operations by US special forces but its an issue which is expected to make the legislation harder to pass.
Obama said the move will show the US is united in its opposition to ISIL which is responsible for the deaths of several American hostages and if left unchecked, will pose a threat beyond the Middle East.
The new measure is expected to set up a debate about America's role in the Middle East and how best to counter the militant group.