Berlin Film Festival salutes director Wim Wenders
Comments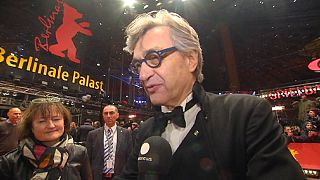 German director Wim Wenders has branched into 3D for his latest film entry at the Berlin Film Festival. It's called "Every Thing Will Be Fine" and it stars James Franco, Charlotte Gainsbourg and Marie-Josée Croze.
Although not in competition, three times Oscar winner Wenders is down for a lifetime achievement award.
Actress Marie-Josée Croze expressed her admiration for her director:
"Well, he's a legend, Wim Wenders – he's brought a lot to the film and art in general – he's a great intellectual, a great artist."
"Every Thing Will Be Fine" tells of a writer who has a car accident and kills a young boy. The film explores guilt, the search for forgiveness and the fact that it is not time that is the great healer but the courage to face up to things and to forgive others.
Reporting for euronews from the festival, Wolfgang Spindler summed up:
"The Berlin Film Festival is this year also a festival for Wim Wenders. On Thursday he will be honored with a Golden Bear for a lifetime of achievement , a retrospective will his cinematic work and this his latest movie has had its premiere here in Berlin. Congratulations Mr Wenders."