Fighting intensifies in Ukraine in run-up to Wednesday's peace talks in Minsk
Comments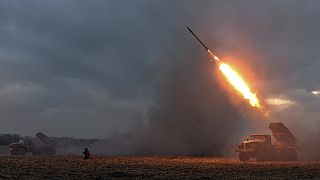 Pro- Russian rebels are said to be closing in on the Ukrainian town of Debaltseve. Fighting on Monday left nine Ukrainian troops and seven civilians dead.
Debaltseve which is a major rail and road hub is being hard fought over in the run up to Wednesday's peace talks in Minsk
Government forces have reportedly pulled back four kilometres. Territory lost and gained will have bearing on negotiating positions in any ceasefire agreed.
I think we should expect heavy Russian efforts to capture Debaltseve before the Wednesday meeting in Minsk. Establish facts on the ground.

— Carl Bildt (@carlbildt) February 9, 2015
The town of Vuhlehirsk – now devastated once had a population of 9,000. It fell under a rebel advance.
There have been sightings of lorries marked as 'humanitarian aid from the Russian Federation' but reportedly filled with fuel are said to be heading for rebel held Donetsk.
The surge in fighting is overwhelming some towns away from the frontline. The shelling has forced hundreds of residents to flee . Many have made it to Slavyansk in the hope of finding food and makeshift shelter while they decide what to do next.
"There was shelling. We left because it was impossible to live there with children. One of our houses was already destroyed. And now, we don't even have the apartment we used to rent. It's gone. Now everything is ablaze, burning. And I don't think there's anything to return to." said one woman from Debaltseve.
Nearly one million people are thought to have been displaced by the violence in Ukraine.