Grammys: Sam Smith triumphs, Beck surprises and Madonna does what Madonna does best
Comments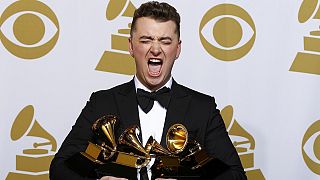 Sam Smith was the big winner at the 57th Annual Grammy Awards. The British soul singer picked up four awards, including 'Song of the Year' for his hit 'Stay With Me'.
American singer songwriter Beck beat off the likes of Beyoncé to take home the coveted 'Album of the Year' Grammy for 'Morning Phase'.
Congratulations to Album Of The Year Winner @beck! pic.twitter.com/RHYlQN0NMz

— The GRAMMYs (@TheGRAMMYs) February 9, 2015
In a repeat of his 2009 MTV outburst, Kanye West jumped onto the stage during Beck's acceptance speech. He didn't say anything at the time, merely waving and exiting. But later, he told reporters: "Beck needs to respect artistry, he should have given his award to Beyoncé."
The Texan belle may have lost out on one award, but she still took home three Grammys; a total she shared with Pharrell Williams.
Musical performances throughout the night varied in energy and style.
Unlikely duo Tony Bennett and Lady Gaga gave a New York-style romantic rendition of the jazz ballad 'Cheek to Cheek'.
Tony + I just finished a killer show at the Wiltern, & celebrated a beautiful night @theGrammys Goodnight everyone !! pic.twitter.com/Ii3rHVuX6T

— Lady Gaga (@ladygaga) February 9, 2015
The pair won 'Best Traditional Pop Album'.
On the other end of the spectrum, Madonna's performance of 'Living for Love' was an energetic spectacle. The 56-year-old popstar wore red and black lingerie, while her dancers sported bulls horns and rhinestone-covered faces.
"Love's gonna lift me up!" @TheGRAMMYs#LivingForMadonnapic.twitter.com/lgfncDIwgK

— Madonna (@Madonna) February 9, 2015
As usual, the night was about more than just the music, with the red carpet providing a number of talking points. Rihanna covered up this year in a pink Giambattista Valli number, while notoriously secretive Australian singer Sia hid her face under a trademark blonde wig.
Bossing it up on the red carpet with my sister in arms @maddiezieglerpic.twitter.com/H0LcoLa6lO

— sia (@Sia) February 9, 2015
Sia also took to the stage, performing hit single 'Chandelier' alongside dancer Maddie Ziegler and special guest Kirsten Wiig.
But, perhaps one of the most talked-about outfits of the night belonged to Madonna. The Queen of Pop gave the paparazzi the opportunity to photograph all aspects of her routinely risqué ensemble.
go and pose like madonna pic.twitter.com/LEnR4CnFjW

— stream(alu) (@drunkcabello) February 9, 2015