Battle against Boko Haram intensifies
Comments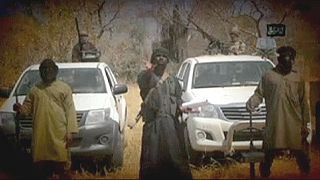 Boko Haram militants have continued to push their battles over Nigeria's borders, with an attack and suspected kidnapping in northern Cameroon. It comes after
forces in Niger managed to counter an assault by the Islamists in the border village of Diffa on Sunday night, the third such attack in just four days.
Nigeria has so far struggled to contain the insurgents. Neighbouring countries have announced an almost 9,000 strong force to combat the growing regional threat, with the headquarters in the capital of Chad.
Nigeria postponed elections on Monday, but said all known Boko Haram camps would be wiped out before the next poll in six weeks time.
This is of little comfort to the one million Nigerians who have been forced to flee. Traumatised they have little hope of returning home.
"I saw many people killed by Boko Haram with my own eyes," explained a refugee in a Cameroonian camp. "Before I came here, they have killed my father, they have killed my brother…. So I am afraid to go to Nigeria again because of this Boko Haram."
More than thirteen thousand people have been killed during Boko Haram's six year insurgency to establish an Islamic state in the north of Nigeria.