Dozens of bodies found in Mexican abandoned funeral home
Comments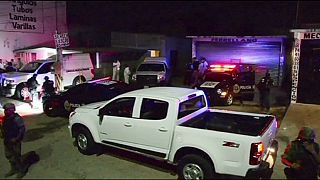 Police in Mexico have opened an investigation after dozens of rotting bodies were found in an abandoned crematorium near Acapulco.
The grim discovery was made after neighbours complained of a foul smell coming from the building.
Authorities say the funeral home had been boarded up for about a year.
A total of 61 corpses were found.
The state of Guerrero has been shaken by drug-related violence, including the notorious disappearance of 43 college students who were allegedly rounded up by corrupt police and handed over to a drug gang.
Officials say there are no immediate signs the bodies found at the funeral home are connected to any crime.