Ukrainian army officer held in Moscow vows to continue hunger strike
Comments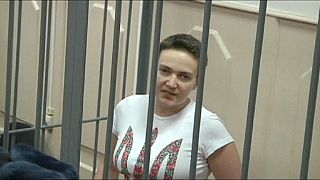 A Ukrainian army officer being held in prison in Moscow is vowing to continue a hunger strike in protest at her detention.
Pilot Nadia Savchenko was seized by pro-Russian separatists in June while fighting with government militia in Luhansk, which is now under rebel control.
The 33-year-old, who is also an MP in the Ukrainian parliament, is facing multiple charges, including entering Russia illegally.
Savchenko has now been on a hunger strike for more than 50 days and there are serious concerns about her health.
She was transferred from one prison to another, amid reports of severe weight loss.
Vera Savchenko, the pilot's sister, told reporters: "Her main vital signs are normal: sugar, body temperature and blood pressure.
"But her fighting spirit is at the same level it used to be, nothing has changed there."
The pilot is also accused of being involved in the deaths of two Russian journalists who were covering the fighting near Luhansk.
Savchenko denies she helped coordinate the mortar fire that killed the reporters, saying she was there to help evacuate injured soldiers.
Moscow claims the pilot entered Russia herself; Ukraine says she was captured by the separatists and taken across the border against her will.
StateDept</a> calls on <a href="https://twitter.com/hashtag/Russia?src=hash">#Russia</a> to release Ukrainian pilot Nadia Savchenko now, expresses grave concern about her health and treatment.</p>&mdash; Nicole Gaouette (nicolegaouette) February 4, 2015
#FreeSavchenko Nadia is "slowly dying" http://t.co/4nzCYA7VsOpic.twitter.com/qqt3LB7clI

— Euromaidan Press (@EuromaidanPress) February 4, 2015
Lawyer for Nadia Savchenko told us today the captive Ukrainian pilot is "dying slowly" in Russian prison after 50 days on hunger strike.

—

RFE

/RL (@RFERL) February 3, 2015
Ukrainian pilot Nadia #Savchenko thanks everyone for taking part in #FreeSavchenko initiative.Together Toward Victory pic.twitter.com/dkx43GKn79

—

UKR

Emb in Holy See (@UKRinVAT) February 4, 2015
.DaisySindelar</a> looks at what is happening to the health of the imprisoned Ukrainian pilot Nadia Savchenko <a href="http://t.co/LLtQoSMrsh">http://t.co/LLtQoSMrsh</a></p>&mdash; RFE/RL (RFERL) January 27, 2015