Jordan promises 'earth-shaking' response to pilot's death
Comments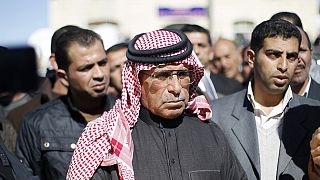 Jordan has promised an earth-shaking response to the killing of pilot Moaz al-Kasasbeh by ISIL militants, as the fallout continues over the government's handling of the hostage situation.
I ask the Jordanian government to take revenge for Moaz's blood.
It began at dawn with the execution of two convicted jihadists: Sajida al-Rishawi, whose release had been demanded in exchange for Kasabeh's life and al-Qaeda operative Ziyad Karboli.
The fate of the pilot, who was taken captive when his F-16 crashed in Syria, has gripped the nation for weeks.
King Abdullah has cut short a visit to the US, as he faces increasing criticism for joining the US-led mission against ISIL, though Kasasbeh's death could draw Amman deeper into the conflict. Syria has now urged cooperation in the fight against Islamist groups operating in the country.
#Jordan: The country's anger after the killing of a pilot by #IS on this Amjad Rasmi's cartoon. Via @mideastXmidwest: pic.twitter.com/ew0UxerZAb

— José Miguel Sardo (@jmsardo) February 4, 2015
In the pilot's hometown of Karak, his father called for a strong response.
"I consider Moaz a martyr to God, if God willing he is in heaven with the other martyrs and good people and prophets," said Safi al-Kasasbeh. "My patience is a beautiful patience, and I ask for help from God and I ask the Jordanian government to take revenge for Moaz's blood." He added that ISIL must be annihilated.
To the town, Kasasbeh is a hero and many are saying that the hanging of two convicted terrorists will not be enough to avenge his death, raising the question over the next military steps for Jordan.